Refresher PRO automatically refreshes website pages upto every 1 second, and will notify you if the web page changes!
Use Refresher Enterprise to automatically accept orders/jobs!
Refresher is an excellent browser and tool for completing the mundane tasks of refreshing web pages when you are viewing your web mail, while monitoring on-line auctions, monitoring sports results or staying logged in on a page. With PRO, You can also get notified if a web page changes!
Additional features within Refresher include Auction Template, HTML Editor, I.P. Tool, PC Timer and PC Reminder!
Refresher is free from Spyware and Malware. Refresher incorporates a complete help reference for troubleshooting.
Please email [email protected] if customisation is required.
If you want the code to refresh your own browser, click refreshing a webpage for the code.
Automatically Refresh & Auto Accept Web Pages & Orders on LenderVend and Appraisal Port, click buy auto accept script for more info.
Refresher© is an excellent browser and tool for completing the mundane tasks of refreshing web pages when you are viewing your web mail, while monitoring on-line auctions, monitoring sports results or staying logged in on a page.
Automatically refresh pages
Monitor web page content changes*
Notifications by sound/email/sms*
Stay logged in
Multiple Tabs
Dual browsing (split screen)
Auto save web pages on refresh*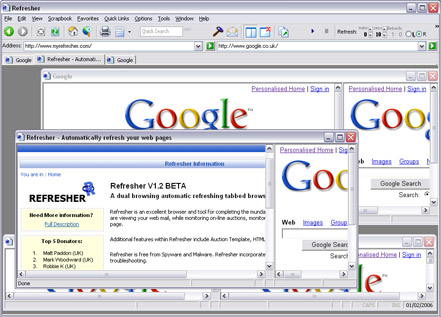 Version 1.3 PRO (Windows)

Languages:
* Refresher Pro
Testimonials
Below are a few of the comments made by people who use Refresher:
---
I have recently made a small donation to your website via paypal to help with the cost of keeping Refresher free for anyone to download and use. It is a great tool to have when you are using your browser(s) for keeping your email,sports scores,online bidding etc...up to date. Your support staff has been very prompt in correcting a few problems I had with the V1.2 Beta. I know this program is not supposed to replace your browser, but I find it hard to believe that Internet Explorer and all the rest haven't installed some kind of refresher in their systems. (Maybe they have but I know IE 6 doesn't have one).
Bob Wunsch (Top Donator!)
---
Hello Jamie,
I am sending this email to say my thanks to all the help you provided me during the installation of Refresher 1.3 Pro. You have exceeded my expectation in helping me with the install of the product.
Refresher1.3 Pro is absolutely wonderful product and I am extremely pleased with it. It worked as it is supposed to and now I do not have to monitor the web page all the time to see if the contents have changed. I am very happy with the product.
Sanjay Joshi
Dallas, TX
USA
---
I am a real estate appraiser and use Refresher PRO for detecting page changes when a new appraisal comes up - which has made a significant impact on my bottom line. Also, thank you for the custom work you have done for me! :)
Don Calinger
---
This is cool! I can use the proxy viewer to increase the page hits of my band on myspace. Thanks very much, rock on...
Si
---
This rocks guys. Seriously, great job!
This is exactly what I was after. I way for me to keep an eye on my new email messages on my Yahoo account.
I didn't want to have sync it with Outlook or Eudora, etc.
This way I can see what's happening all of the time, without having to hit refresh.
Great job!
Dave Delaney
---
I now get notified by a sound if I get a new message on my facebook. I need to know when I get a message without continually checking the page when I am doing other stuff. I'm addicted to facebook, so this helps me out. Nice.
Rose J
---
I'm very impressed of this usefull tool!! Thank you very much
P Schaer
---
Hello! FINALLY someone has an invented a web page refresher with a dual browser. Thanks!
David
---
Ok, i use your refresher to stay loged on to a forum site and it has been extreamly useful
Justin
---
I like your software. It's what I'm looking for as it allows automated refresh of web browser according to the timing I wanted. But I'm looking for another feature in it. That is can I save the screen shot after refresh???
Meaning after I set eg 10mins of refreshing of web browser, the software will capture the screen shot and save as maybe say JPEG or other format into my hardisk? Thanks (Note: This has been implemented into Refresher).
K Tay
---
Great Program. I don't use it a lot, but when I do, it's very nice.
Rodger
---
Its Great... Refresher RULES...
Greatest Browser after FireFox.
Greatest inventory..
I Use A Lot..
Tejas
---
I visit a job web site that updates info frequently as I need to apply as soon as a new job becomes available in my area. I tried to find if there's any program/browser that can refresh automatically as I don't want to click refresh. Then I found Refresher, it's fab!!
Sue K
---
Thank you very much for all of your comments, including the comments not mentioned above, we really do appreciate them.
- Jamie.
Advertise your company or your website right here!
Get more traffic to your site...Does advertising work? It just did!!