Advertise your company or your website with Refresher!
Refresher is free, but we still have costs to cover for Refresher updates and the website maintenance.
We offer very cheap advertising packages where you can provide us with a link (static graphic/image or text) to your company website or your personal website to get more hits and potential sales.
Just imagine, Refresher has had over 80'000 downloads just from download.com alone, which can be verified by clicking this link to download.com/refresher. (New Window)
To re-iterate, this is only from download.com - And not direct from this site!! Refresher has had over 200'000 downloads from this site, plus over 80'000 from download.com, PLUS the other sites Refresher is listed on. Now it doesn't take much to workout how many people are using our Refresher program!! These numbers are not just people who have visited the site, they have actively downloaded Refresher.
Imaging if your website or company was advertised on the Refresher HOMEPAGE or in the Refresher product!!
---
Advertising Options:
Option 1: - HOMEPAGE website advertisement for your website on myRefresher.com
Have your banner or a text link on the Refresher HOMEPAGE to direct traffic to your site. This should hopefully boost sales or the profile of your site.
Example: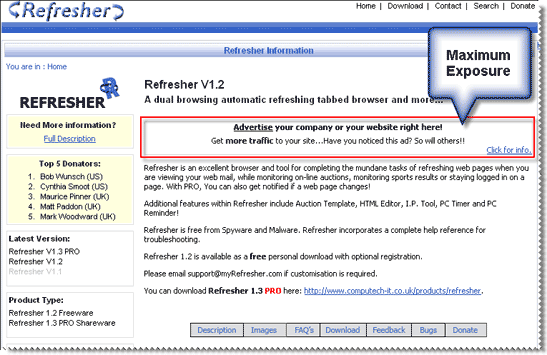 Option 2: - YOUR WEBPAGE as the default Refresher homepage
Refresher installs by default with Ask.com or google.com as the homepage. Imagine if your site was the homepage!!! Please note that a user can change the default homepage of Refresher.
Example: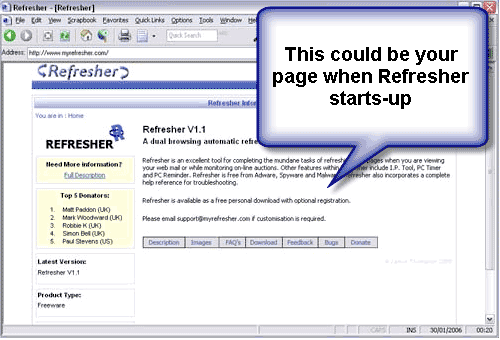 Option 3: - Sponsored by YOUR COMPANY in the download package
Have your company or website name integrated into the Refresher application. Your details will be set in stone in the application. If you would like your company or website also included in the Refresher application when people download it, please contact us to discuss this.
Example: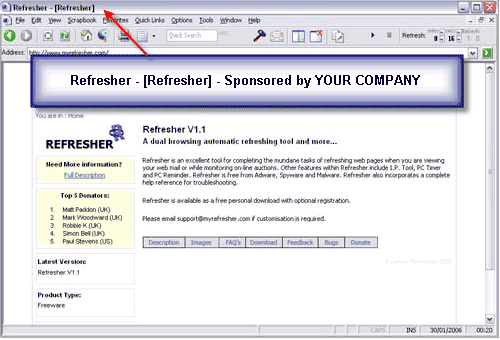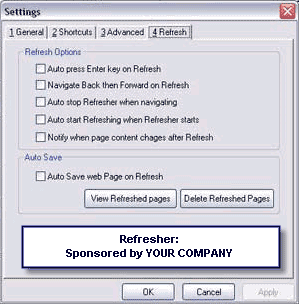 To enquire about any of the above options, prices and timeframes, or if you have any other questions, please email [email protected]