Refresher PRO automatically refreshes website pages upto every 1 second, and will notify you if the web page changes!
Use Refresher Enterprise to automatically accept orders/jobs!
Refresher is an excellent browser and tool for completing the mundane tasks of refreshing web pages when you are viewing your web mail, while monitoring on-line auctions, monitoring sports results or staying logged in on a page. With PRO, You can also get notified if a web page changes!
Additional features within Refresher include Auction Template, HTML Editor, I.P. Tool, PC Timer and PC Reminder!
Refresher is free from Spyware and Malware. Refresher incorporates a complete help reference for troubleshooting.
Please email [email protected] if customisation is required.
If you want the code to refresh your own browser, click refreshing a webpage for the code.
Automatically Refresh & Auto Accept Web Pages & Orders on LenderVend and Appraisal Port, click buy auto accept script for more info.
Refresher V1.2 and V1.3 PRO is packed with useful features to make a simpler and better web experience.
Below are some screen shots of Refresher in action.
Note: The screen shots of Refresher have been reduced in size to enable to page to download quicker and display more practically.
Here are the features of Refresher V1.2:
Refresher
This is an image of Refresher in Dual Browser mode and with multiple tabs open. See how you can simultaneously view and navigate two (and more) web browser windows. Either (or both) browsers can be set to refresh automatically (See Fig 1.0a - Multiple Tabs & Dual Browser Mode).
The browser size can also be changed to any size you prefer. (See Fig 1.0b - Refresher xx:xx Split). While in single browser mode, the web browser occupies the full width.
It is very simple to start automatically refreshing web pages. (See Fig 1.0c - Simple to use Refresh bar). Select minutes and then seconds and click Start Refresher! Each tabbed window can have a different refresh time.
Here is an image of the Refresher I.P. Tool. This is convenient for quick I.P. or Domain resolution requests (See Fig 1.1 - Refresher I.P. Tool).
When you need to shut the computer down, log off, or perform a restart while you are absent from your machine the PC Timer enables you to do just this.(See Fig 1.2 - Refresher PC Timer).
Whether you need to make a phone call at a certain time, are monitoring and on-line auction, or need to send an important email, the PC Reminder will ensure that you do not forget (See Fig 1.3 - Refresher PC Reminder).
Pop-up Manager
It is very annoying when unwanted pop-up windows appear when navigating the World Wide Web. With Pop-up Manager you can control which windows pop-up while enjoying your on-line experience (See Fig 1.4 - Refresher Pop-up Manager).
Refresher Auction Template: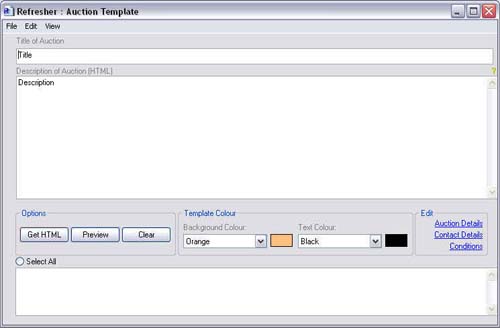 Standard Refresher Window: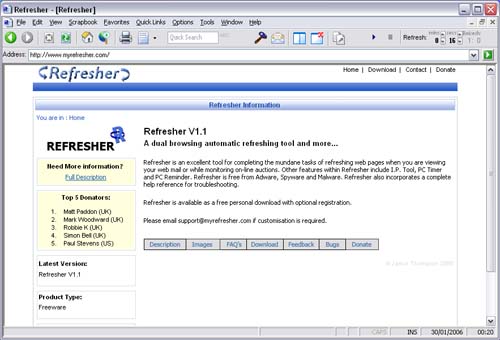 Refresher In Dual Browser Mode: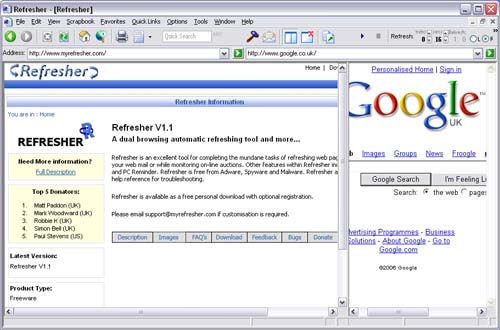 Refresher With Multiple Tabs: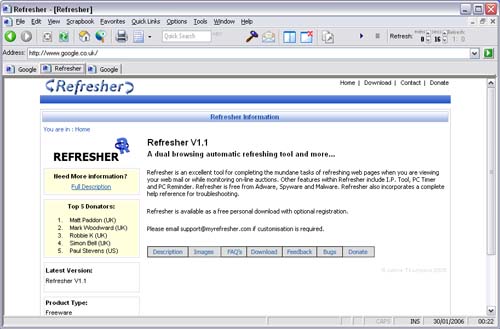 Refresher With Multiple Tabs And Dual Browser Mode: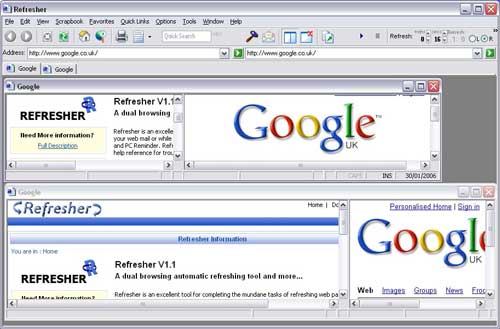 Refresher HTML Editor: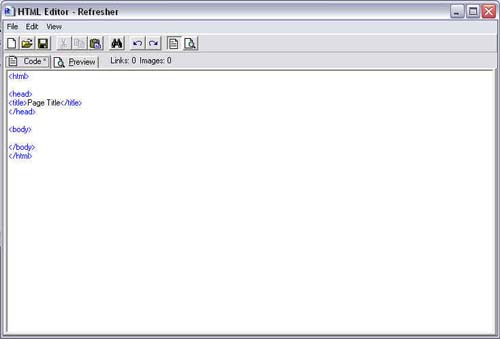 Contact us
for a more focused reminder product without the need to run Refresher.
Refresher Reminder Manager: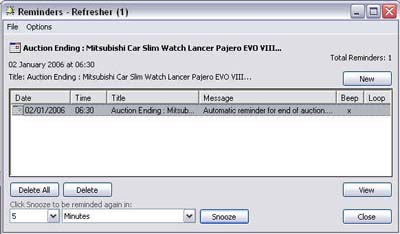 Refresh Settings in Refresher: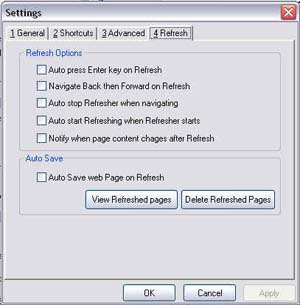 ---
PRO Features:
---
Monitor any changes on a webpage with Refresher Web Monitor. Get notified by Email, SMS, onscreen pop-up or custom sounds through your speakers if a change occurs. Great for monitoring stocks and shares or online auctions.(See Fig 1.5 - Web Monitor)
Provide Refresher with a pre-defined list of unlimited links and Refresher will cycle through each link for x seconds. Save and export links and go Full Screen. Sounds and onscreen notifications when the page changes to the next. Great for gallaries or constantly changing webpages. (See Fig 1.6 - Link Cycler.)
Visit a URL from a different Proxy Server (IP address). Import or create your own list of proxy servers. Great for increasing web page hits/plays or testing the load on your own servers. (See Fig 1.7 - Proxy Viewer.)
Whether you are surfing the web or browsing through images, you may see a colour which you like and would like to know the RGB (Red, Green, Blue) value, Hex value or VB (Visual Basic) value. The Colour picker will do just that from any point on the screen. (See Fig 1.8 - Colour Picker.)
If you have multiple tabs open with different websites, Refresher can automatically cycle through each tab for a pre-defined duration. Great for gallaries or displays.(See Fig 1.9 - Cycle Tabs)
The Keyboard Macro Recorder tool plays a given set of commands executed by the keyboard. This is a useful utility should you have a task which you have to repetitively type the same commands/text or any action which can be performed with a mouse that can be replicated with keyboard commands.(See Fig 1.10 - Keyboard Macro Recorder)
Should you need to check if a year is a leap year, simply run the Lear Year Checker tool. Enter a year and click "Check" to automatically determine if the entered year is a leap year or scroll through each year manually to determine if it is a leap year.(See Fig 1.11 - Leap Year Checker)
The Refresher Get Links tool retrieves links for a web site. Click the "Custom" radio button and enter in the desired web site using the http://www.mywebsite.com format or click the "Current Page" radio button to retrieve the links of the curent page in Refresher. Click Get Links and Refresher will list all of the links displayed on that particular website.(See Fig 1.12 - Get Links)
Increase page hits or test the load on your servers by refreshing a page every one second. Unlike Refresher 1.2, Refresher 1.3PRO does not have a limit to the number of seconds each refresh can occur.
Just before each page refresh, the webpage can be emailed to any email address. This can be for archiving purposes or if you are away from your computer, you can forward to webpage to an alternative recipient.
Note: All images are © Jamie Thompson. Please contact [email protected] if you would like to use any image in any form.